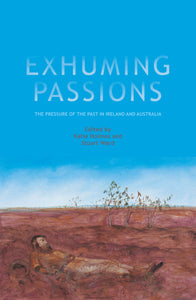 Exhuming Passions: The pressure of the past in Ireland and Australia
Regular price
$7.00
$0.00
Unit price
per
Tax included.
Shipping
calculated at checkout.
Exhuming Passions is a collection of essays by leading Australian and Irish scholars about how the past is remembered and contested in these two countries that are often singled out because of their bitterly disputed remembrance.
Each chapter addresses a different topical issue such as how war is commemorated – particularly the changing national myths surrounding Anzac Day and the Easter Rising; government apologies for harms done by previous generations – to the Stolen Generations and state apologies for institutional and religious child sexual abuse.
The book also discusses how the past is constructed in film and literature – Irish and Australian historical fiction, the changing cinematic representations of Irish religions, how the colonial past is represented in Australian cinema, as well as the changing urban culture of Canberra and Dublin.
Book details
PUBLICATION DATE: 2012
FORMAT: Paperback
EXTENT: 320 pages
SIZE: 234 x 153 mm
ISBN: 9781742583877
RIGHTS: Australia and New Zealand
CATEGORY: Australian Studies, Katie Holmes, Stuart Ward, UWAP Scholarly,
---