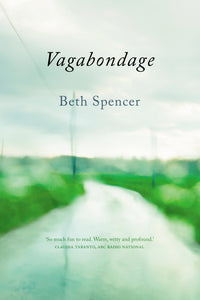 Vagabondage
Regular price
$17.00
$0.00
Unit price
per
Tax included.
Shipping
calculated at checkout.
In this playful verse memoir about a year spent living in a campervan, Beth Spencer takes us on a journey into the pleasures and challenges of being in service to freedom.
A poignant, sharp and funny meditation on belonging – circling back and forth between family, relationships, memory and desire – her story tracks the often fine line between solitude and loneliness, the pull of what we possess and what possesses us, and the elusive idea of home.
This is a long-awaited new book from the author of Things in a Glass Box (FIP, 1994) and How to Conceive of a Girl (Vintage, 1996), which was runner-up for the Steele Rudd Award.
Vagabondage will appeal not just to lovers of poetry, but also to those interested in a new way of writing memoir.
Watch a video interpretation of Spencer's poem 'Wild things 2 (A serenade)' here.
Praise for Vagabondage:
So much fun to read. Warm, witty and profound.

CLAUDIA TARANTO, ABC RADIO NATIONAL

 

Beth Spencer has a great eye and ear for detail, for small things with larger implications. This is a work that is very specific and personal and yet opens out in universal, fabulously recognisable and immediate ways. A book to read and re-read, and re-inhabit.

PHILIPPA HAWKER, ARTS AND FILM WRITER, THE AGE

 

I'd like to nominate Beth Spencer's Vagabondage as my best read for 2014 ... I love this book for its thought-provoking portrayal of a mid life crisis writ large. It's beautiful, funny, sad, and speaks to all who aim to age disgracefully.

SUZANNE DONISTHORPE, BOOKS AND ARTS DAILY, ABC RADIO NATIONAL

 

Beth Spencer's Vagabondage ... falls like a brief spring rain and leaves dancing sunlight ... Each page is a moment of insight as Beth takes us with her on her journey ... It seems a miracle, a revelation, that out of moments of disparate experience, emerges a whole tale.

C S HUGHES, NERDALICIOUS MAGAZINE

 

Nine gold stars and an elephant stamp. My only criticism is that it's five hundred pages too short, but I will remedy that by re-reading and gleaning.

FRANK VELDZE (SCULPTOR)

 

There are authors for whom writing functions as a form of truth-telling ... We look to them for insight and intelligence and good humour, and a willingness to share – and Beth Spencer is one of them ... Vagabondage is a short work that leaves you feeling you've read a much longer one. There are many reasons for this, not least her close-focused but at the same time expansive and warm angle on the universe ... Plenty of story, and incident, as well as interiority and introspection ... It's a marvellous blend.

ANGELO LOUKAKIS, EXECUTIVE DIRECTOR, AUSTRALIAN SOCIETY OF AUTHORS

 

[A]iming to explore not only the idea of home but The Big Questions: love, family, the whole catastrophe ... this slim volume displays Spencer's talent for catching moments in time and transforming them ... Verditct: Dreamy.

SUSAN JOHNSON, THE SUNDAY TERRITORIAN

 

An unexpected gem ... Utterly unique, so Australian and such a beautiful work of art, Beth Spencer's tale of selling her house and becoming a nomad spoke to me with a vivid kind of wanderer's call. A perfect book to read on holiday, but be warned, it might change your life forever.

WALTER MASON

 

The journey and the book gives Spencer the space (and time) to consider important issues ... 'Vagabondage may seem serious (yes) and sad (in parts), but there is a humour that underlies the journey that turns its reading into an adventure… This book doesn't belabour its wisdom, but instead opens us up through humour to all aspects of humans' being.

ANGELA GARDNER, CORDITE POETRY REVIEW

 

It's as if Spencer has opened the door of her little van and ushered us in; we knock knees, smell each other's emotions, and laugh in embarrassment and recognition... [But while] searingly honest and sometimes darkly funny... it is the interplay between the particular and the general that is most invigorating about Vagabondage...

ANDY JACKSON, AUSTRALIAN POETRY JOURNAL

 

Vagabondage is much more than a travellers tale. Though it does indeed chart one year in Spencer's life when she was a gypsy, travelling the country in her camper van alone, each poem builds up to a memoir of deep self-reflection on what it means to be alive on this earth. The book is a joy to read, mingling lighthearted observation with deep, warm and above all intimate introspection that the reader is invited to join, so that the journey becomes a shared one between the poet and the reader.

MAGDALENA BALL, COMPULSIVE READER

 

Book details

PUBLICATION DATE: 2014
FORMAT: Paperback
EXTENT: 152 pages
SIZE: 234 x 156 mm
ISBN: 9781742586342
RIGHTS: World
CATEGORY: Beth Spencer, Biography and Autobiography, Poetry,
---