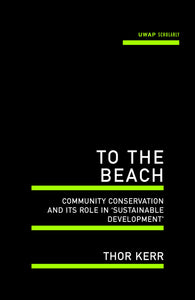 To the Beach: Community conservation and its role in 'sustainable development'
Regular price
$28.00
$0.00
Unit price
per
Tax included.
Shipping
calculated at checkout.
When property developers, politicians and a vocal community debate how local land should be used, with the media intent on exposing conflicting interests and incompatible ideologies, it is only a matter of time before plans change and careers take new paths.
Written as an engaging account of politics and coastal property development in Fremantle, To the Beach is an account of the politics of ecological crisis in Australia. Through this book, Thor Kerr encourages readers to reflect on perceptions of environmental threats and solutions and describes how environmental movements form around a shared desire to live a local experience – in this case, the experience is 'our' beaches.
Drawing on PhD research, this topical book is a useful scholarly resource and an engaging study for readers with an interest in Australian politics and culture, particularly at the nexus of property development and environmental activism.
Praise for To The Beach:
To the Beach rethinks our relationships to the environment… and to larger questions around neoliberalism, democracy, civic participation, politics and resistance. DR VIJAY DEVADAS, OTAGO UNIVERSITY

 

Ever since Rats in the Ranks we have known that local politics can be fascinating. Thor Kerr provides a heady analysis of the volatile swirl of sentiment, advertising, politics, activism and sheer opportunism that determined the outcome of a key development in Fremantle in 2009. Kerr has a keen eye for capturing public personalities with a telling detail, and brings the tools of cultural analysis to bear on media stories, images, policy documents and popular discourses. Both as a Fremantle local and a cultural theorist I learned a lot about the mechanics and machinations by which conflicts of development, environmentalism, heritage and local politics played out on this particular ground – and indeed continue to reverberate through the city.PROFESSOR SUVENDRINI PERERA, CURTIN UNIVERSITY

 

To The Beach is a compelling read for many reasons; for the light it sheds on process, for the questions it raises about how we define sustainability and, lastly, for its page-turning writing style.DR NIRMAL KISHNANI, NATIONAL UNIVERSITY OF SINGAPORE; EDITOR IN CHIEF, FUTURARC

 

 Book details

PUBLICATION DATE: 2015
FORMAT:
EXTENT: 256 pages
SIZE: 234 x 153 mm
ISBN: 9781742586649
RIGHTS: World rights
CATEGORY: Australian Studies, General Non-fiction, Thor Kerr, UWAP Scholarly,
---