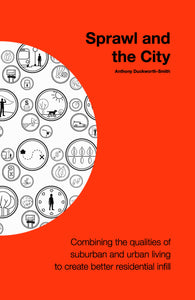 Sprawl and the City: Combining the qualities of suburban and urban living to create better residential infill | OPEN ACCESS
Regular price
$0.00
$0.00
Unit price
per
Tax included.
Shipping
calculated at checkout.
OPEN ACCESS

While Sprawl and the City is no longer in print UWAP has made the pdf file Open Access. The pdf of Sprawl and the City can now be downloaded for free. Simply add the pdf product to cart and continue as normal.
Anthony Duckworth-Smith
What is the urban model to meet the future needs of sprawling modern cities of the 21st Century such as Perth?
The continuation of suburban development on the city fringes is impacting on biodiversity, infrastructure provision, greenhouse gas emissions and the accessibility of jobs and other opportunities. At the same time strategic planning continues to support fitting more people into existing urban areas to slow down the expansion of the (sub)urban footprint. Many households, however, still aspire toward the benefits of a suburban life. Given this, how can higher density homes and neighbourhoods be configured so that they are a broadly attractive option and therefore truly limit sprawl?
Sprawl and the City is about helping to uncover this new urban pattern. 
Praise for Sprawl and the City
"A thought-provoking, smart and innovative book which takes the reader beyond the well-trod dichotomy of inner-city high-rise versus outer suburban sprawl. Duckworth-Smith provides an empirical basis for rethinking our cities and where future population growth is best located."
DR BRAD PETTITT, MAYOR OF THE CITY OF FREMANTLE AND A/PROF SUSTAINABLE DEVELOPMENT MURDOCH UNIVERSITY
"A cleverly-illustrated and thoroughly-researched analysis which explodes the myths around density and recognises the importance of everyday experiences in residential development in cities such as Perth."
JANET HOLMES À COURT, AC
Book details
PUBLICATION DATE: 2016
FORMAT: paperback (out of print), pdf (Open Access)
ISBN: 9781742588650
CATEGORY: Anthony Duckworth-Smith, Art, Photography and Design, General Non-fiction, Urban Planning & Architecture, 
---