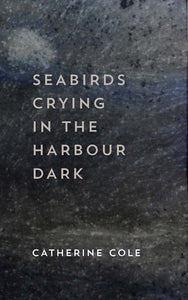 Seabirds Crying in the Harbour Dark
Regular price
$24.99
$24.99
Unit price
per
Tax included.
Shipping
calculated at checkout.
The room rustled as the children looked around. They knew no one had been to the coast but they checked in case for liars, for the too-dumb to know the difference between the real world and the television, for the dreamers.
A young boy yearns for a rabbit; a man battles for his father's love; a group of middle-class Australians find themselves in a newly renovated house; and an elderly refugee worries about his daughter's sea voyage. Seabirds Crying in the Harbour Dark is about seeking refuge, about how we define home and what makes us feel safe.
The stories in this collection ask a simple question: what does it mean to live with compassion and kindness?
AWARDS
Shortlisted - 2018 NSW Premier's Literary Awards (Christina Stead Prize for Fiction)  
Praise for Catherine Cole:
[Cole] writes without the guilt that has been so debilitating to our political and intellectual culture. She doesn't engage with debates about guilt or blame, neither fending them off nor joining the chorus of mea culpa. She brings an awareness to attitudes of mind that Australian readers will recognize.

DRUSILLA MODJESKA, THE MONTHLY

 

Catherine Cole's writing is beautiful, full of intelligence and grace, and always suggestively understated.

KERRYN GOLDSWORTHY, THE CANBERRA TIMES

 

In this elegant, delicately crafted collection of short stories, Catherine Cole brings a poetic sensibility to the examination of apparently unremarkable moments in ordinary lives.

2018 NEW SOUTH WALES PREMIER'S LITERARY AWARDS, JUDGES' COMMENTS

 

It is a pleasure to read a collection of short fiction in which every story is a work of elegant and meticulous craft. Catherine Cole has brought her significant observational and lyrical skills as a poet, novelist, and memoirist to bear on these stories, and the narratives unfold with cool, restrained style. However, this collection has more to offer readers than a selection of stylistically beautiful pieces. With ingenious use of theme and artful arrangement of individual stories, Cole delivers a cohesive collection that is far greater than the sum of its discrete parts.

RACHAEL MEAD, AUSTRALIAN BOOK REVIEW

 

Book details

PUBLICATION DATE: 1 September 2017
FORMAT: Paperback
EXTENT: 200 pages
SIZE: 198 (H) x 129 (W) mm
ISBN: 9781742589503
RIGHTS: World rights
CATEGORY: Catherine Cole, Fiction, 
---