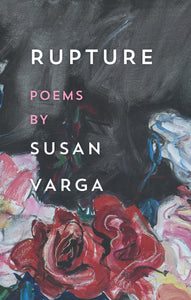 Rupture
Regular price
$16.00
$0.00
Unit price
per
Tax included.
Shipping
calculated at checkout.
Praise for Rupture:
The directness and simplicity of these poems, beautifully arranged as stages in a recovery, carry the urgency, honesty and celebration of a life reclaimed.
JOAN LONDON
The poems that comprise Rupture are lucid, deft, unapologetic, forthright. There are images and lines that are literally breath-taking, stanzas that punch with wisdom, and whole poems that linger long after the book is finished.
ANDREA GOLDSMITH
Despite the serious nature of her predicament, Varga handles her material with a light touch; the result is a luminousness that is carried over into subsequent sections ringing with delicate description and wistful meditations.
WILLIAM YEOMAN, THE WEST AUSTRALIAN
Varga's poems are, as Andrea Goldsmith says on the back cover of this book, "unapologetic" and "forthright". These two characteristics, along with Varga's sharp eye for detail, are, for the moment, considerable — and sufficient — virtues.
GEOFF PAGE, THE WEEKEND AUSTRALIAN
From reading this collection, you get a poignant feeling that stroke strikes hard for a person like Susan, one with a passion and talent for words. But new opportunities emerge as we see a life reclaimed through poetry. This is a lovely little volume that will touch your thoughts gently, but firmly.
DEBORA MCINNES, THE STROKE FOUNDATION
When a writer can no longer use language we lose her unique, practised perspective from the world. Susan Varga has been to that place, but she did not stay there. In some ways, Rupture is the report written on behalf of grateful readers, such as me, who hope not to visit this particular misfortune for themselves. It is a rewarding, brave, and insightful collection of poems.
CRAIG BILLINGHAM, WESTERLY
Book details
PUBLICATION DATE: September 2016
FORMAT: Paperback
EXTENT: 104 pages
SIZE: 198 (h) x 129 (w) mm
ISBN: 9781742589091
RIGHTS: World rights
CATEGORY: Poetry, Susan Varga,
---