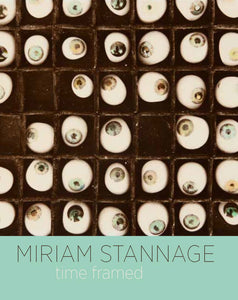 Miriam Stannage: Time Framed
Regular price
$14.00
Sale price
$48.00
Unit price
per
Tax included.
Shipping
calculated at checkout.
Miriam Stannage (b. 1939) is a relentless innovator. Her practice is founded upon a deep intellectual engagement with, and curiosity about, the challenges and nature of contemporary life. For the last fifty years, she has produced a dazzling range of works that resist easy categorisation. 

Stannage has developed an aesthetic that celebrates the strange and beautiful that can be found in the everyday:  from industrial building sites to suburban street verges laden with abandoned goods, and crumbling ghost towns as they disappear into the soil of the vast Australian continent.

Miriam Stannage: Time Framed provides analysis on this important contemporary artist's work, exploring her use of words and symbols, and the concept of vision in all of its senses. This survey presents Stannage's works, many of which have not been seen publicly, and documents the media she has worked in, specifically installation, photography, painting, video, prints and drawings, and artist's books.    
Book details
PUBLICATION DATE: August 2016
EXTENT: 300 pages
SIZE: 284mm (h) x 234mm (w)
ISBN: 9781742588223
RIGHTS: World
CATEGORY: Art, Photography and Design, General Non-fiction, Lee Kinsella, Lawrence Wilson Art Galley
---