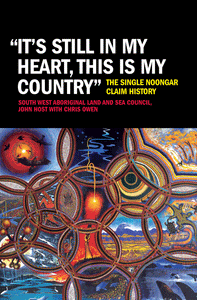 "It's Still in My Heart, This is My Country": The Single Noongar Claim History
Regular price
$39.95
$0.00
Unit price
per
Tax included.
Shipping
calculated at checkout.
South West Aboriginal Land and Sea Council, John Host with Chris Owen
---
Originally titled 'Applicants Historical Report' and prepared as expert evidence in the native title case known as Single Noongar Claim, this book analyses the historiography and associated anthropology of the South-West. Coupled with Noongar oral history, it examines the survival of Noongar tradition, law and custom, proving that many of the most common misconceptions regarding the disappearance of Noongar culture have no basis in fact. Existing histories tend to represent the Noongar people as passive victims of colonisers and governments; it is all to easy to assume that theirs is little more than one of attempted assimilation, separation and state intrusion. Noongars are rarely represented as active survivors - as people who retained their traditional ways and country in the face of politics aimed at eliminating all aspects of their heritage.
Awards
Won – 2010 Human Rights Medals and Awards for Literature (non-fiction)
Won – 2010 Margaret Medcalf Award
Praise for
"It's Still in My Heart, This is My Country"
:
It provides a thorough account of Noongar people and their history.
MALCOLM QUEKETT, THE WEST AUSTRALIAN
Book details
PUBLICATION DATE: 2009
FORMAT: Paperback
EXTENT: 328 pages
SIZE: 235 x 155 mm
ISBN: 9781921401428
RIGHTS: World
CATEGORY: Aboriginal, Australian Studies, Staples Fund, UWAP Scholarly,
---