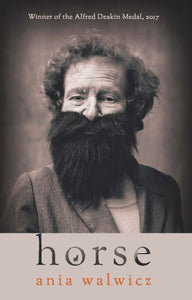 horse
Regular price
$7.00
$0.00
Unit price
per
Tax included.
Shipping
calculated at checkout.
Ania Walwicz
Enter into the world of imaginative writing that crosses over into theories of language and the mind:
A fairytale. Magic horse tells me. I grow a beard. Who is me? Work crosses boundaries between poetics, theory and autobiography. An opera of the self. I am the diva. Dark comedy and terror of psychoanalysis comes to life here. A learning experience. Layered text. I become the Doctor. The composition of the self. The work of memory, charm and play. Doctor Walwicz tells you a trauma. Doctor Freud reads me here. I know everything now and all at once. Fictocriticism. A multilevel text. You can do it too. I analyse me. You can do it to you. A different reading of the self. My diary. I tell you everything here. I open my head. I open my heart. Read me.
Praise for horse: 
This is a brilliant comic work…a wild horse turned loose in a field where its movements trace a transversal line through the ficto- and the critical so that the two become forces that acting on and through each other, so that there is no question of fencing them off…As this wild horse gallops it also shape-shifts- becomes a nightmare, becomes pony, becomes dream horse or rocking horse or dark horse. With each transformation, genres mix, collide or sometimes collude, and the field itself is reconfigured, and the forces within it are realigned.
PROFESSOR ANNA GIBBS, WESTERN SYDNEY UNIVERSITY
Ever since the seismic arrival of her amazing debut collection writing (Melbourne: Rigmarole 1980), Ania's prose poetry has staked a claim worldwide for riotous parody and resistance in defiance of the marketplace of consumable story. In horse the rider is horseplayed as the horse is playridden, always en procès, in metamorphosis and on trial, pushing consumption to its bulimic and parodic limits… horse is a creative powerhouse: registers and quotes jostle: cultural and literary theory, psychoanalysis, children's literature, high literature, cinema, and pop music, autofiction and current affair – all spark off in extraordinarily productive friction.
MARION MAY CAMPBELL
Book details

PUBLICATION DATE: July 2018
FORMAT: Paperback
EXTENT: 178 pages
SIZE: 210 (H) x 140 (W) mm
ISBN: 9781742589893
RIGHTS: World rights
CATEGORY: Fiction, Poetry,
---