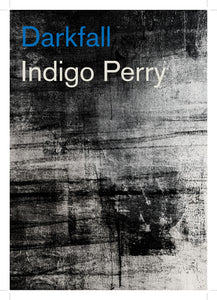 Darkfall
Regular price
$7.00
Sale price
$19.00
Unit price
per
Tax included.
Shipping
calculated at checkout.
Darkfall is a potent and unforgettable work of compelling writing about an adolescence lived in an Australian country town in the 1980s: desolate, dusty and bleak. Indigo Perry's narrative is a journey of grief, arranged around a score of music from alternative and post-punk sources, music unavailable outside cities in an age before the internet. This music, she contends, provides an imagined soundtrack, a ballast, for her isolation. 
Darkfall identifies a legacy of extreme toxic masculinity and gendered violence, containing little in the way of justice. The author's deep retrospective unstitching of her reality is presented to us with profound poetic strength, uncovering the power that resilience can unleash on an adult body. It is an act of recovery and reclamation.
Praise for Darkfall
Indigo Perry's Darkfall is memoir, an invocation of adolescence in rural Australia in the 1980s when the boys were predatory and the girls were prey. It is a page-turner. Her writing is elegiac, rare in Australian writing. The rhythm is graceful and sophisticated. The timbre is calm and unsurprised no matter what is being described.
 Her writing is demanding and illuminating. Like the best personal writing, it doesn't just speak to the writer's experience, but to a moment in a particular society.
Miriam Cosic in The Australian, July 2020
Click here to read the first chapter
Publication date: April 2020
Format: Paperback
Page extent: 232 pages
Size: B+ 148mm W x 210mm H
ISBN: 978-1-76080-132-8
Rights: World
Category: Memoir
---