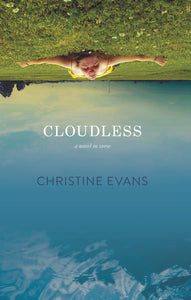 Cloudless
Regular price
$9.99
$0.00
Unit price
per
Tax included.
Shipping
calculated at checkout.
Christine Evans
It's a still, hot summer in Perth, heat shimmering off the city's glass buildings. Not much to do but surrender to the cool of Beatty Park's swimming pool. The locals are out in force: teenagers flirting, even the rag-tag kids from the refuge. 
But something is moving amid all the stillness--a hidden snake sliding through shadows. It's moving through lives and connecting them with its sonar trembles: Auntie, in town with Jerome to find the kid's runaway mum; Kevin, tired of his bus route, dealing with raucous kids and bottlenecks and a city that seems to be growing hostile; Karri and his other-worldly sister Bat Girl; Jackie and her sisters, sharing smokes by the pool. 
In this exquisite, lyrical verse novel by acclaimed playwright Christine Evans, we are invited to witness the strange and invisible ways people are drawn together and pulled apart—and to venture to the catastrophic release that might ultimately return them home.
Praise for Cloudless:
Though deceptively easy to read, Cloudless is a deeply beautiful and very powerful story of love and transcendence. The writing is both clear and simple, and deeply, richly poetic. MAGGIE BALL, THE COMPULSIVE READER

 

Book details

PUBLICATION DATE: September 2015
FORMAT: Paperback
EXTENT: 180 pages
SIZE: 198 x 128 mm
ISBN: 9781742587561
RIGHTS: Australia and New Zealand rights
CATEGORY: Christine Evans, Fiction, Poetry, 

 
---