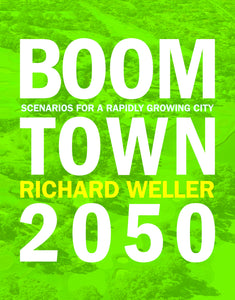 Boomtown 2050: Scenarios for a Rapidly Growing City
Regular price
$14.00
Sale price
$34.00
Unit price
per
Tax included.
Shipping
calculated at checkout.
LAST FEW COPIES AVAILABLE!
---
The Western Australian capital, Perth, is the world's most isolated city, in one of the world's most precious biological regions. Already sprawled further than most major international cities, Perth is predicted to grow from 1.5 million people to 4.2 million by 2056.
To meet this increase the entire city and its infrastructure needs to double in the next four decades. This will have huge consequences for the culture and ecology of the city: Perth's long term survival is at stake.
Boomtown 2050 goes well beyond the sprawl versus anti-sprawl debates and shows various ways that Perth could be creatively re-organised to suit the challenges of the 21st century.
Awards
Shortlisted – 2010 APA Book Design Awards (General Illustrated Book Category) 
Praise for Boomtown 2050:
Richard Weller truly understands cities, spaces and places. Boomtown 2050 is essential reading about Perth and gives a "warts and all" summary of what and who we are. This book truly captures this period in our evolution and encourages us all to appreciate ourselves more fully for our own records and for a more sustainable future.
LISA SCAFFIDI, LORD MAYOR, CITY OF PERTH
This monumental book dramatically exposes the issues that accompany the rapid growth of Perth…Essential reading for anyone interested in the future shape of Perth.
THE WEST AUSTRALIAN
Since 70% of city infrastructure in 2050 already exists today, Boomtown 2050 opens up an essential debate as to how we transform rather than rebuild our cities to meet the twin pressures of population growth and climate change. The case studies and base data provided in Boomtown 2050 needs to be replicated in all cities so as to allow us to have an intelligent debate as to the future form of our cities. Business as usual is not an option!
ROB ADAMS, DIRECTOR, CITY DESIGN AND URBAN ENVIRONMENT, MELBOURNE CITY COUNCIL
The West Australian capital is set on a trajectory for mighty growth in the first half of the 21st century…Richard Weller's book Boomtown 2050 boldly canvasses options for Perth amid what will surely be known as the century of growth.
BERNARD SALT, DEMOGRAPHER AND COMMENTATOR
Book details
PUBLICATION DATE: 2009
FORMAT: Hardcover
EXTENT: 452 pages
SIZE: 260 x 210 mm
ISBN: 9781921401213
RIGHTS: World
CATEGORY: Art, Photography and Design, General Non-fiction, Richard Weller, UWAP Scholarly,
---