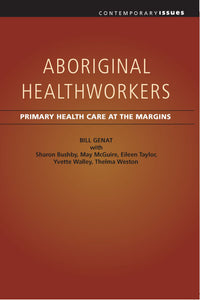 Aboriginal Healthworkers: Primary Health Care at the Margins
Regular price
$27.00
$0.00
Unit price
per
Tax included.
Shipping
calculated at checkout.
Bill Genat with Sharon Bushby, May McGuire, Eileen Taylor, Yvette Walley, Thelma Weston
Aboriginal Healthworkers looks at what healthworkers do, what they think about their work, and how their work is perceived by doctors, nurses, social workers, transport workers—and, crucially, their Aboriginal clients. Bill Genat's unique contribution brings ethnographic methods to his study of a group of urban healthworkers, and to allow their voices to be heard.
Healthworkers speak frankly about the state of Aboriginal primary health care in this country. Daily visits to homes of families whose health, in the broadest sense, continues to be eroded by the historical legacy of exclusion, cultural oppression and racism highlight the serious lack of professional recognition and support.
This powerful book portrays the unique healing practice offered by Aboriginal healthworkers and urges that practical steps be taken to bolster their holistic approach.
Book details
 PUBLICATION DATE: 2006
FORMAT: Paperback
EXTENT: 240 pages
SIZE: 205 x 135 mm
ISBN: 9781920694760
RIGHTS: World
CATEGORY: 
Aboriginal
, 
Bill Genat
, 
Health and Medicine
, 
UWAP Scholarly
,
---