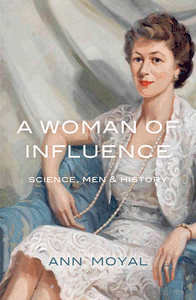 A Woman of Influence: Science, men & history
Regular price
$24.00
$0.00
Unit price
per
Tax included.
Shipping
calculated at checkout.
---
Historian Ann Moyal has led a fascinating life. As a young adult she was the research assistant to Lord Beaverbrook – a vibrant British political player during the World Wars. In her sixties, Ann believed she had told her life story when she published the autobiographical Breakfast with Beaverbrook. But – inspired by the bemoaned lack of interesting late-life stories – Ann decided to recount her rich later years.
In A Woman of Influence Ann, now a Doctor of Letters, tells of her life's work in Australian science history, and the many important people she met along the way. She also writes insightfully about our social and political challenges, and intimately about life's great commonalities: love and loss.
The cover image of the author is a painting by Pamela Thalben-Ball, which is housed in the National Portrait Gallery, Canberra.  
Praise for A Woman of Influence:
The book is a valuable contribution to understanding some of the major public policy concerns that have underpinned [Moyal's] life's work, as well as understanding the contributions that older feminists have made, and continue to make, to Australian intellectual life ... If you want to give a present to a friend who doesn't know Canberra, to give them a sense of a world of intellectual life, in a beautiful environment, this is the book.

MARIE COLEMAN AO PSM, THE CANBERRA TIMES
Book details
PUBLICATION DATE: 2014
FORMAT: Paperback
EXTENT: 212 pages
SIZE: 234 x 156 mm
ISBN: 9781742585970
RIGHTS: World
CATEGORY: Ann Moyal, Biography and Autobiography, General Non-fiction,
---