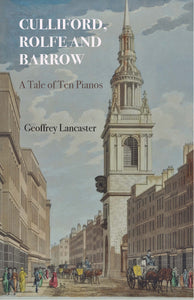 Culliford, Rolfe and Barrow: A Tale of Ten Pianos
Regular price
$68.00
$0.00
Unit price
per
Tax included.
Shipping
calculated at checkout.
During the late eighteenth century, the newly invented 'English' piano was not only a symbol of cultivation and modernity, but also reinforced music as life's counterpoint. London was the centre of musical instrument making in Britain, and the activities of London piano makers played a crucial role in the musical instrument trade.
Many piano makers worked in London, amongst whom were the partnership of Culliford, Rolfe and Barrow. Despite uncertain economic times, Culliford (the maternal great-grandfather of Charles Dickens and a master maker of harpsichords, spinets and pianos), Rolfe (a respected piano maker) and Barrow (Charles Dickens' maternal grandfather, who – having embezzled money from the Navy Pay Office – fled English law to the Isle of Man) made pianos that incorporated the latest innovations in design. In some instances, the firm's pianos travelled many miles to nourish music lovers in far distant lands, and may now be found in such diverse locations as Boston, Massachusetts, The Hague, and Perth, Western Australia.
Culliford, Rolfe and Barrow: A Tale of Ten Pianos gives a close encounter with the firm's extant pianos, and provides scintillating glimpses of life in Georgian England and London's late eighteenth-century piano industry.
Book details
PUBLICATION DATE:
FORMAT: Paperback
EXTENT:
SIZE:
ISBN: 9781742589374
RIGHTS:
CATEGORY: General Non-fiction, Geoffrey Lancaster, UWAP Scholarly,
---