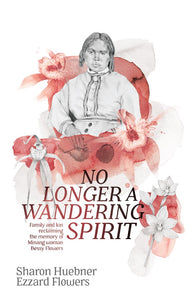 No longer a wandering spirit: Family and kin reclaiming the memory of Minang woman Bessy Flowers
Regular price
$27.00
$0.00
Unit price
per
Tax included.
Shipping
calculated at checkout.
By Sharon Huebner and Ezzard Flowers.
"Bessy Flowers is a hero of mine, and I'm very glad she's at the centre of a book that features her images and writing, along with the remarkable journey to situate her in family and Country" – Kim Scott.

Kia Kia, Noogiting Wirren, Minang Yorga, Minang Boodja.

No Longer a Wandering Spirit acknowledges the sleeping spirit of Bessy Flowers, a Minang ancestor belonging to the Great Southern of Western Australia.

Bessy moved away from her Minang homeland in June 1867, never to return. She was a young Aboriginal woman, educated, musical, confident and hopeful.

On Thursday I wished I was going to Church instead of rocking about in the steamer…Often & often my thoughts fly to dear Albany.

Admired for a time, Bessy's esteemed qualities could not shield her from the injustices of colonial society.

I hope you will allow us to stay on this station it comes hard on the children and myself wandering about without a home…Please listen to my prayer for it is a prayer for a home.

No Longer a Wandering Spirit is Bessy's story told through archival letters and photos dating from the 1860s. Bessy's spiritual return home to the resting place of her ancestors is encapsulated by unifying expressions of family, kin and country.

"This book is a story told through the experience and emotions of my family. It's our journey of reconnecting and of discovering a stronger sense of who we are" – Ezzard Flowers.
Book details
PRICE: $39.99 incl GST
FORMAT: C format paperback, 228 (H) x 159 (W) mm, 0.65 kg
EXTENT: 300 pages
PUBLISHER: UWA Publishing for the Charles and Joy Staples South West Region Publications Fund
PUBLISHED: March 2023
CATEGORY: Non-fiction; Aboriginal history
ISBN: 978-1-76080-222-6
---