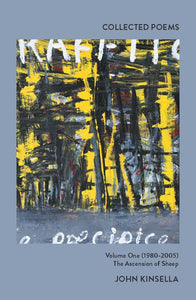 The Ascension of Sheep, Collected Poems Volume One (1980-2005)
Regular price
$37.00
$0.00
Unit price
per
Tax included.
Shipping
calculated at checkout.
This is the first volume of a three-volume Collected Poems by John Kinsella that dates back to when he was seventeen, and moves on through forty-one-plus years of writing and memorising poetry. Collected in one place for the first time are poems that have appeared in chapbooks or other publications outside Australia, or that are out of print. John Kinsella's major poetic concerns have been how to write place without claiming place (he acknowledges he lives on stolen Aboriginal land), how to write of being part of many place-experiences at once, and how to write the biosphere with ecological and humanitarian justice in mind. Further, his poems consider how we might be regionally communal and internationally responsive at once, without ever succumbing to economic globalism: a mode of living he refers to as 'international regionalism'. Always attuned to the natural world, his activist poetry examines how humans respond to a world that they themselves have placed under pressure. But his concerns are many, and literature, art and music are ever-present in a poetry that affirms the creative as a potential force for positive change. His embracing of many different poetic forms, along with a merging of the 'lyrical' and 'experimental', seeks to reinforce that diversity is to be celebrated. These volumes of poetry are a landmark addition to Australian literature.
Works of immense range, from extended lyrical meditations to taut experimental sonic poems and everything in between.
-WritingWA
Book Details
Publication Date: February 2022
Price: $55.00
ISBN: 978-1-76080-213-4
Format: 234 x 156 mm
Extent: 832 pages
Rights: Australia and New Zealand
---