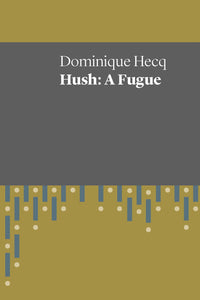 Hush: A Fugue
Regular price
$16.00
$0.00
Unit price
per
Tax included.
Shipping
calculated at checkout.
Praise for Hush: a fugue

Dominique Hecq writes through dulled topographies of mourning, avowing death is a "singular fear of finitude against a background of black light". Autobiographical, and sharply particular, Hush takes readers into an abyss where "grief is a caesura" and loss means "being hostage to a ghost". But this book is not only a poignant elegy to "losing your mother tongue and cracking your own voice"; Hush is also an incandescent lament from an "un / harmed" speaker locating the possibilities and lexicons of dénouement. Silencing the undertones of a surpassing grief, Hecq's quest is finally epic and heroic.

DAN DISNEY

 

"Life goes on, they say," says Dominique Hecq in her startling and moving new book of lined and prose poetry, Hush. Then, "Life goes on leaving." A response to the death of a child, charting the near death and revival of a marriage and family, Hush is the lyric meditation of a true scholar, deeply inflected by theory but driven by the urgencies of the body. Early and late, it poses unanswerable questions—"Why is white white?"—and answers them by returning to the world of "Chalk, rice, zinc / / Crystal falls / / " and, devastatingly, "Limestone graves," before the language of the world disintegrates. Seeming at first to span a year of seasons, then suddenly encompassing fifteen years, the poem charts a remarkable inner journey, which begins in starvation, a refusal of the sensuous, but finally recollects not joy so much as presence. The world reemerges in water, birds, flowers, and most of all food, prepared at first as sacrifice, for others, until it makes itself present—first through color but also through smell, through sound, and literally through ink—and becomes the poet's communion.

KATHARINE COLES
Almost twenty-five years later, this powerful and disturbing collection both marks the enduring presence of the lost child and traces the almost unbearable experiences of grief and mourning, finally possible to articulate within the flexibility of the poetic voice.
ROSE LUCAS, TEXT JOURNAL 

Book details 

PUBLICATION DATE: May 2017
FORMAT: Paperback
EXTENT: 100 pages
SIZE: 210 (H) x 140 (W) mm
ISBN: 9781742589473
RIGHTS: World rights
CATEGORY: Poetry, UWAP Poetry,
---