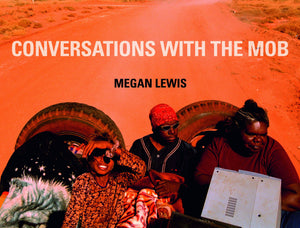 Conversations with the Mob
This item is out of print.
$49.95
Megan Lewis
---
Conversations with the Mob is an intimate photographic portrayal of the Martu Aboriginal people, one of the last Indigenous groups in Australia's Great Sandy Desert to come into contact with Europeans.
When the Mob allowed a whitefella – photojournalist Megan Lewis – to come and live with them, the understanding was she was there to take photographs to share with outsiders. But as two and a half years passed and Megan absorbed herself in the Mob's way, it became apparent that the project was more than a book or an exhibition… it was a journey of marpan (healing) for whitefellas and Martu alike.
Conversations with the Mob captures the reality of a traditional people who live neither in their old world or in a white world. Through over 200 photographs and oral stories, including Megan's own experiences with the Mob, the reader enters the reality of desert life where health, grief, footy, humour, sorry business and spirits consume daily survival.
Awards
Won – 2005 Walkley Award (Best Photographic Essay)
Praise for Conversations with the Mob:
Compelling, insightful and beautifully written.
ERIN O'DWYER, SYDNEY SUN HERALD
Book details
PUBLICATION DATE: 2008
FORMAT: Hardcover
EXTENT: 240 pages
SIZE: 230 x 300 mm
ISBN: 9781921401039
RIGHTS: Australia and New Zealand
CATEGORY: Out of Print,
---
choosing a selection results in a full page refresh
Opens in a new window.
Opens external website in a new window.