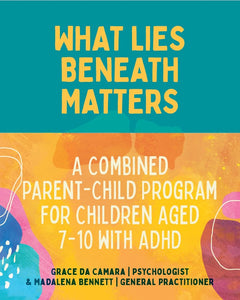 A Combined Parent-Child Program for Children aged 7-10 with ADHD | What Lies Beneath Matters
Regular price
$27.00
$0.00
Unit price
per
Tax included.
Shipping
calculated at checkout.
Grace da Camara and Madalena Bennett
In What Lies Beneath Matters registered psychologist Grace da Camara and her GP-daughter Dr Madalena Bennett share their personal experiences and first-hand knowledge of managing the day-to-day challenges of raising a child with ADHD. Fuelled by their own struggles, the two have developed a hands-on, practical tool for parents and children to help manage the impact of ADHD on the family.
This self-help workbook and guide is part of the OnTrac ADHD program, designed for parents and their children aged between 7 and 10 years old. The program's proven methods and techniques are based on Grace's work with children with ADHD in both individual and group settings. Through the OnTrac program, Grace found that a collaborative approach involving the child, parents, and services could achieve meaningful and significant reductions in ADHD symptoms.
What Lies Beneath Matters is specifically designed to help improve the quality of parent-child interaction and foster a more informed understanding of the child's thinking ability, motivation, and values. By sharing their own experiences and the successes of the OnTrac program, Grace and Madalena provide realistic, practical, and useful information to young children with ADHD and their parents. With a focus on improving the relationship between parent and child, this book offers hope to families struggling with ADHD.
Other books in the What Lies Beneath Matters series
Book details
ISBN: 978-1-76080-259-2
FORMAT: 254 x 203mm, 216pp
PRICE: $39.99 incl GST
PUBLICATION DATE: August 2023
RIGHTS: World
SERIES: What Lies Beneath Matters
GENRE: Health and Medicine, Coming Soon, Non-fiction
---