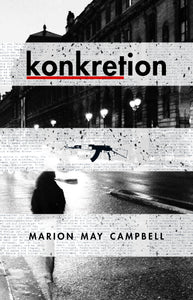 konkretion
Regular price
$7.00
$0.00
Unit price
per
Tax included.
Shipping
calculated at checkout.
konkretion, in turns funny and moving, stages a dialogue around the romance of the Baader-Meinhof gang's revolutionary aspirations.
Ex-commo Monique Piquet meets up in Paris with a former student, Angel Beigesang, who has just published a dramatic re-imagining of Ulrike Meinhof and Gudrun Ensslin of the Red Army Faction. In her wanderings through revolutionary and repressive Paris, the old birdie's breakdown goes into freefall, as she recalls her earlier radicalism and its part in the younger woman's dangerous identification with revolutionaries.
This work of 'loiterature' considers Meinhof's 1970 tripwire leap into illegality and follows her flight underground, crimes committed in the name of 'armed struggle', and her conflict-blighted incarceration. With this stunning novella, Marion May Campbell questions whether a more playful use of language by Meinhof and Ensslin might have resulted in less tragically murderous outcomes and considers how, in commemoration, we might avoid romancing the outlaw.
Praise for konkretion:
Sometimes when fiction tackles deeply complex matters in a deeply complex fashion, it gets utterly lost within the profundity it seeks … But sometimes, as with Marion May Campbell's konkretion, such fiction soars.

AUSTRALIAN BOOK REVIEW

 

Campbell's long experience as a writer has her attuned to cross-currents of humour, punning, nostalgia, Australian cultural cringe, narcissism, regret and death in a way that rewards the deep, patient reader. Once it finds its own voice, it reaches toward something quite beautiful.

THE MELBOURNE REVIEW

 

…genuinely rewarding – it's not often that Australian fiction propels the reader so far out of their comfort zone that the world takes on a slightly different gleam, if only for a moment.

READINGS MONTHLY

 

Campbell correlates literary obscurity and physical decline with a terrific, and disturbing, eye for detail … konkretion is an open rhizomatic work that constructs a myriad of relationships between ideas, characters, texts and contexts. Above all it is an incitement to thought.

OVERLAND JOURNAL
Book details
PUBLICATION DATE:

 2013


FORMAT:

 Paperback


EXTENT:

 160 pages


SIZE:

 198 x 128 mm


ISBN:

 9781742584911


RIGHTS:

 Australia and New Zealand


CATEGORY:

 

Fiction

, 

Marion May Campbell

,
---