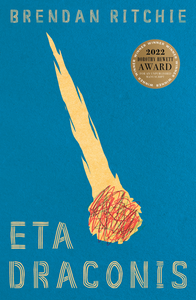 Eta Draconis
Regular price
$11.00
$0.00
Unit price
per
Tax included.
Shipping
calculated at checkout.
Brendan Ritchie
Winner of the 2022 Dorothy Hewett Award
Elora is leaving her hometown for university. Leaving behind friends, family, and safety to follow her dream of studying theatre while she still has the chance.
 
Together, Elora and her older sister, Vivienne, set out by road for the city and the upcoming semester. The relationship between them is fractured and fading, turned upside down by Eta Draconis: the violent meteor shower that has rained across Earth since the beginning of their adolescence. In a land scarred by cra­ters and shockwaves, to travel anywhere is to risk everything. As the showering intensifies and their way forward becomes threatened, the sisters are forced to confront their relationship and recalibrate their hopes for the future. Do they return home or press on in the face of the meteors? Can life ever be normal with the world crashing down all around you?
 
Eta Draconis is an epic story about two resilient sisters who are determined to live their life in a world on the brink of destruction. Winner of the 2022 Doro­thy Hewett Award, Brendan Ritchie's Eta Draconis is timely, hopeful and full of suspense.
Teaching notes available. Click here to download.
Praise for Eta Draconis
"Fresh and original, ETA DRACONIS is a powerful coming-of-age story – about personal resilience in the face of fear and hope in the face of a threatened planet. Brendan Ritchie is an excellent writer." – Holden Sheppard
 
"A frightening Australian dystopia, beautifully rendered." – A J Betts
 
"Eta Draconis is tense and urgent … a poetic coming-of-age story for readers who enjoy realistic dystopian fiction." – Danielle Bagnato, Books +Publishing
"The writing is crisp and emotive ... a story for our time." – Duncan Strachan, Kill Your Darlings
"Eta Draconis is a brilliantly-crafted, deeply-considered work" – Jemimah Brewster, The Au Review
"Part road trip, part coming-of-age story, part dystopian fiction, Eta Draconis explores our responses to uncertainty, the co-existence of despair and hope in a crisis, and how such circumstances bring out the worst and best of humanity in this complex, messy world of ours." – Melinda Tognini, WritingWA
 "A tense tale of two young women coping with constant and implacable threat, daring to imagine a future for themselves in a world where precarity reigns." – Jason Steger, The Sydney Morning Herald
"Throughout, Ritchie ably builds both the authenticity of his world and the tension of his plot, but it's the emotional acuity of this complex sisterly bond that's the novel's clear highlight." – Gemma Nisbet, The West Australian
"Eta Draconis is tangible and relatable in a way that feels very current whilst touching on the timeless subject of the human condition." – Ryan Miragliotta, Pelican Magazine
"The novel's most moving passages are those that vindicate what I take to be its central theme: a defence of the role of art in a world on the brink of catastrophe." – Ned Hirst, ArtsHub
Book details
PRICE: $32.99 incl GST

FORMAT: 250 pages, C format paperback
DIMENSIONS: 234 (H) x 153 (W) mm
WEIGHT: 0.5 kg
RIGHTS: World
CATEGORY: Fiction; Commercial Fiction; YA
ISBN: 978-1-76080-261-5
PUBLISHED: May 2023
TEACHING NOTES: available for download
---