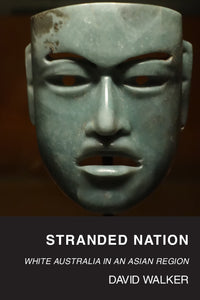 Stranded Nation: White Australia in an Asian Region
Regular price
$9.99
Sale price
$39.99
Unit price
per
Tax included.
Shipping
calculated at checkout.
For well over a century Australia's place in Asia has been at the forefront of public discussion and controversy. Stranded Nation is a searching examination of how a 'white' nation, harbouring deep anxieties about rising Asia, sought to convince both itself and its neighbours that it belonged within the Asian region. This is the strange story of Australia's momentous turn to the East.
Stranded Nation draws on a wide range of sources -from archival records in Australia, the US, the UK, India and New Zealand to the personal stories of Asian visitors. It introduces a surprisingly varied cast of historical actors with opinions on Australia's place in Asia - writers, journalists, politicians, policy- makers, students and diplomats from within Australia and across the region. To that list we must add culturally illuminating fictional figures such as James Bigglesworth (airman, orientalist and hero to many young Australians).
This is a history of race, white prestige and belonging in a world shaken and transformed by decolonisation. These changes thrust the perplexing 'mind of Asia' to the fore. The psychology of Asia was often seen as the elusive key to understanding the region, rather than social and economic circumstances. With Britain's withdrawal to Europe came a greater need for accommodation with Asia, leading to insistent calls for a better understanding of Asia and a new, more courteous racial etiquette. In response to these challenges, new image-building programs were created to make Australians appear an Asia-friendly people and not, as some critics in Asia claimed, arrogant white intruders.
David Walker's Stranded Nation is a recommended read for anyone, politicians and students alike, seeking to know the history of Australia's agonising over Asia; how it began, how it evolved and the passionate and colourful characters involved. Stranded Nation is told with authority, insight and wit, and the satisfying readability of a good novel, and that makes it great history.
- Stephen FitzGerald, writer, sinologist and Australia's first Ambassador to the People's Republic of China
Book details
PUBLICATION DATE: March 2019
FORMAT: Paperback
EXTENT: 528 pages
SIZE: C format paperback
ISBN: 9781760800277
RIGHTS: World
CATEGORY: Australian Studies, David Walker, Politics,
---