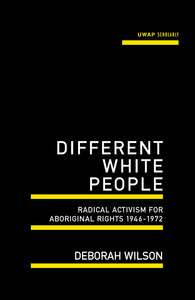 Different White People: Radical Activism For Aboriginal Rights 1946-1972
Regular price
$7.00
$0.00
Unit price
per
Tax included.
Shipping
calculated at checkout.
by Deborah Wilson
Different White People presents a trilogy of remarkable stories about campaigns for Aboriginal rights. But the most curious thing about this book is that the central characters in this book are not Aborigines. Some of the 'different white people' you will meet in these pages are well known Australians, but many are not. But they all had one crucial common characteristic: a singleminded determination to support and protect the rights of Aboriginal people. This book is a journey through three remote regions of Australia.
It begins in 1946, as Aboriginal pastoral workers walk away from oppressive conditions to make their famous stand in the Pilbara, in Western Australia. The second, lesser known story unfolds in Central Australia, when Britain and Australia collaborate to conduct their missile and nuclear weapons programs in Aboriginal country. And, the final section of this book features a landmark action in the Northern Territory: Aboriginal workers and their families walked away from white bosses in the now-famous 'Gurindji walk-off' in 1966. And amidst these fascinating episodes in Australia's history was an eclectic group of people working tirelessly to protect and support Aboriginal people and Aboriginal rights. They were The Different White People.
AWARDS
Shortlisted - 2016 Northern Territory History Book Award
Praise for Different White People:
An important and engaging book with a cast of fascinating characters and the recreation of an almost forgotten political culture.

Henry Reynolds, professorial fellow, University of Tasmania

 

Wilson's research is superb… [she] is to be congratulated for documenting the numerous 'little things' that Different White People did in the fight for justice for Indigenous Australians which, thankfully, in 2015 is a mainstream issue and not confined to the fringes of radical political activism.

Mark Aarons, author and journalist

 

Book details

PUBLICATION DATE: July 2015
FORMAT: Paperback
EXTENT: 350 pages
SIZE: 234 x 153 mm
ISBN: 9781742586656
RIGHTS: World
CATEGORY: Aboriginal, Australian Studies, Deborah Wilson, UWAP Scholarly,

 
---