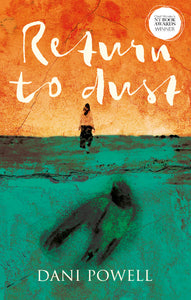 Return to Dust
Regular price
$7.00
$0.00
Unit price
per
Tax included.
Shipping
calculated at checkout.
Northern Territory Chief Minister's Book Award Winner for Fiction 2022
 
How she came to be there, in the first place, it is hard to think. Because of the family who asked for a ride home from the football? Because of the song of the old lady who rocked to and fro on the back seat of the car that night? Or was it the sleeping child, eyes opening now and then like pools of ink? Time has turned on its head in this otherworld, or slowed like it might in some kind of myth or fairytale. Or is it that time no longer holds weight or meaning?
When Amber returns to her home in the Australian desert, her hope is to move on from her grief, to start again.
Invited to work in a remote Aboriginal community, she sets off on a three-day trip on unsealed roads that link a constellation of communities, roads that promise purpose but soon sweep her off track, steering her backwards and forwards in time, in search of her landmarks and bearings.
Return to Dust
is a tale of bereavement, of recovering lost things and finding our place.
Click here to read the first chapter
Praise for Return to Dust

Dani Powell has lived in Alice Springs for decades and it shows in this arresting, poetic account not only of Central Australia's landscape but also of modes of being in the world.
Kerryn Goldsworthy in The Age, June 2020
 
Stranded between landscape and metaphor, searching for traction in the rituals of the western desert, a woman excavates memory and the archaeological evidence of an ancient catastrophe to come to terms with the death of her brother. Return to Dust is a haunting and poetic meditation on grief and the omnipresence of death in life.
Kim Mahood
 
Return to Dust is a wise meditation on memory, grieving, time and place, the allure of landscape, belonging and displacement, and much more. It is graced with reflection, lyricism and depth of feeling, interwoven with a loving, respectful and honest depiction of friendship and engagement with Western Desert indigenous life. Powell seeks to connect across cultures, tracing the parallels, whilst honouring the differences as personified in one individual's quest for reconciliation with the fragilities of life and death.
Arnold Zable

Book details 
Publication date: April 2020
Format: Paperback
Page extent: 164 pages
Size: B 128mm W x 198mm H
ISBN: 978-1-76080-138-0
Rights: World
Category: Fiction
---