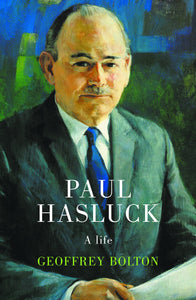 Paul Hasluck: A Life (paperback)
Regular price
$14.00
Sale price
$34.00
Unit price
per
Tax included.
Shipping
calculated at checkout.
Sir Paul Hasluck was for almost two and a half decades one of Australia's most prominent politicians.
Born in Fremantle in 1905 and educated at Perth Modern School and The University of Western Australia, Hasluck worked for The West Australian and lectured at The University of Western Australia before moving into politics in 1949. After two decades in politics, including a variety of ministerial responsibilities, Hasluck was appointed as the 17th Governor General of Australia in 1969.
This biography includes Hasluck's experience working for the Department of External Affairs during the Second World War. It covers his career as a writer, poet, historian, and politician, providing a complete and enthralling portrait of one of Australia's great men.
AWARDS
Shortlisted - 2016 Western Australian Premier's Book Awards (WA History)

Praise for Paul Hasluck:
This book is an overdue reminder that Hasluck was a leading agent of change in Aboriginal Affairs.

FRED CHANEY AO, RECONCILIATION ADVOCATE

 

Geoffrey Bolton most helpfully ... restores Hasluck to a figure far from dour and humourless, but a creative and, indeed, mischievous personality.

PETER RYAN, FORMER PUBLISHER MELBOURNE UNIVERSITY PRESS

 

This book bears the trademarks of Bolton's historical scholarship: meticulously researched, lucid and unpretentious prose, and sympathetic but clear-eyed judgement. In sum, it adds to his fine legacy.

PAUL STANGIO, AUSTRALIAN HISTORICAL STUDIES

 

Book details

PUBLICATION DATE: 2015
FORMAT: Paperback
EXTENT: 492 pages
SIZE: 234 x 153 mm
ISBN: 9781742586588
RIGHTS: World
CATEGORY: Biography and Autobiography, General Non-fiction, Geoffrey Bolton,
---