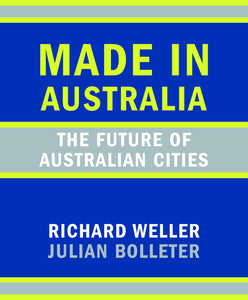 Made in Australia: The Future of Australian Cities
Regular price
$15.00
Sale price
$49.99
Unit price
per
Tax included.
Shipping
calculated at checkout.
How do you creatively plan for a population of 62 million by 2100? Australia's current major city planning frameworks only account for an extra 5.5 million people. Whether we want a 'Big Australia' or not, Australia's 21st century is likely to see rapid and continual growth – if we want liveable, high performance cities and regional centres we need to think outside the box. Richard Weller and Julian Bolleter (Australian Urban Design Research Centre at the University of Western Australia) offer optimistic and creative solutions for the future with one imperative: what we build this century will make or break our country.
Part 1 – Big Cities, Big Ideas, Big Australia: Australia; Visionary Cities; and Visionary Infrastructure.
Part 2 – Australian Cities 2012–56: Sydney; Brisbane and SEQ; Melbourne; Perth; Adelaide; Canberra; Hobart; Darwin; and Growing Pains.
Part 3 – Australian Cities 2101?: Australian Megaregions and New Cities; The East Coast Megaregion (ECM); The West Coast Megaregion (WCM); and Darwin – The New North.
Part 4 – Essays: Living with the Land; Back to the Future; Urban Resilience & Adaptation; Urban Metabolism: A way to make Australian cities more efficient?; Infrastructure: Now and then; New Settlements on the Fringe: Understanding contemporary peri-urbanisation; And now for the good news…; Cities as Water Catchments; Coding the City; and Follow the Money.
Part 5 – Designs: Boyd's Error: Planning's curse; Infill Precincts; Mean Streets; A National Green Network for Australia.
AWARDS
Won - 2014 WA Medal for Landscape Architecture Research & Communication Excellence Award
Praise for Made in Australia:
A refreshingly 'big picture' book…Made in Australia outlines a sparkling vision for an Australia of over 60 million people, living in economically and environmentally sustainable megaregions.

CRAIG ALLCHIN, ARCHITECTURAL REVIEW

 

The concepts in the Australian Curriculum: Geography are addressed very well, especially place, space, change, interconnections, sustainability and environment. The book's real strength, as a resource for geography teachers, is its wide range of visual materials, especially the maps, graphs and photographs.

JOHN RAMSDALE, GEOGRAPHICAL EDUCATION

 

Richard Weller and Julian Bolleter have delivered the wake-up call required for Australia's settlements to be sustainable beyond this century. The Australian Institute of Landscape Architects celebrates this important research.

PAUL COSTIGAN, CEO, AUSTRALIAN INSTITUTE OF LANDSCAPE ARCHITECTS

 

Under any realistic scenario of the next four decades, most Australians will continue to live in major urban areas, especially the capital cities. However, in the light of emerging environmental economic and social trends the question must be asked as to whether, in a climate change context, the current settlement system will deliver the most sustainable, efficient and liveable outcomes for Australians over coming decades.

GRAEME HUGO, DIRECTOR, AUSTRALIAN POPULATION AND MIGRATION RESEARCH CENTRE, UNIVERSITY OF ADELAIDE

 

As a resource, and as an inspiration, this is a landmark text for anyone concerned with the big questions of how we design, develop and deliver a sustainable urban future where nature and the city can function in a mutually beneficial symbiosis.

WILLOW ALIENTO, THE FIFTH ESTATE
Book details
PUBLICATION DATE:

 2013


FORMAT:

 Flexi-bound paperback


EXTENT:

 318 pages


SIZE:

 255 x 200 mm


ISBN:

 9781742584928


RIGHTS:

 World


CATEGORY:

 

Art, Photography and Design

, 

Julian Bolleter

, 

Richard Weller

, 

Urban Planning & Architecture

, 

UWAP Scholarly

,
---