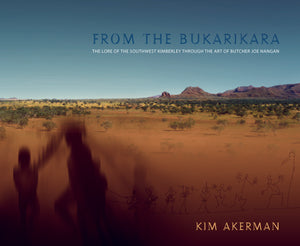 From The Bukarikara: The Lore of the Southwest Kimberley through the Art of Butcher Joe Nangan
Regular price
$31.00
$0.00
Unit price
per
Tax included.
Shipping
calculated at checkout.
Butcher Joe Nangan was one of those charismatic people who exercised a most profound impact on all who met him.
Having spent his life acquiring the ritual knowledge and lore, not only of his own Nyikina and Walmajarri forbears but also that pertaining to the lands of his neighbours, Nangan believed that he could, through his art; present his world to a wider audience.
With pencil, paint and pocket knife Nangan deftly depicted the artefacts, legends and history of his country.
The legends that Nangan relates and illustrates provide a traditional explanation on how his world came to be. Nangan also records the often-brutal history of the frontier experience and the clash of cultures as Europeans began to encroach on Aboriginal lands.
Possibly one of the most prolific of Australia's Indigenous artists Nangan left a record unparalleled of a world at the cusp - a world that would soon fade and vanish as time moved on.
Praise for From the Bukarikara
"In From the Bukarikara, Kim Akerman presents examples of Nangan's works on paper and pearl shell created over many decades that permit the reader to gain an understanding of the development of the artist's individual style. Rather than focussing on the stories or histories themselves, Akerman reveals how these underpin the artwork and how Nangan chose to create windows through which the stories might be glimpsed and appreciated. As such, the works of Butcher Joe Nangan are not just skilfully executed works on paper or pearl shell but portals through which the outsider is invited in to a world unknown to most of us."
Janet Holmes à Court AC
---