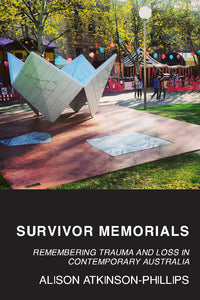 Survivor Memorials: Remembering Trauma and Loss in Contemporary Australia
Regular price
$7.00
$0.00
Unit price
per
Tax included.
Shipping
calculated at checkout.
This is a book about memorials – specifically about a new type of memorial that commemorates experiences of survivors. These new memorials acknowledge loss and trauma that people have lived through, rather than died because of. It is also a book about why people feel the need to remember such difficult experiences. As such, it combines a topic that has strong scholarly interest with human stories of pain and resilience from Australia's recent history.
The first half of the book outlines the emergence of this new genre of commemoration in three stages: early explorations through community and public art projects in the 1980s and 90s; the adoption of traditional memorial forms from the late 1990s; and the creation of government-funded and commissioned memorials as part of the adoption of transitional justice practices of symbolic reparations since the mid 2000s.
Alongside international interest in the field of memory studies, there is local interest in the stories behind these memorial projects. The Royal Commission into Institutional Responses to Child Sexual Abuse has already been the catalyst for a number of new memorial projects, and has produced clashes between survivors and church groups about the best ways to acknowledge their suffering. This book, therefore, is timely, as it offers an opportunity for people to learn from past experiences.
The book includes six case study chapters, each of which tell the story of the development of a different Australian memorial. The background to each of these projects is a heart-breaking story of loss and trauma, but many of the stories of the memorial development are stories of resilience, and of unlikely friendships and connections.
Book details
PUBLICATION DATE: March 2019
FORMAT: Paperback
EXTENT: 336 pages
SIZE: C format paperback
ISBN: 9781760800260
RIGHTS: World
CATEGORY: Alison Atkinson-Phillips, Australian Studies, UWAP Scholarly,
---