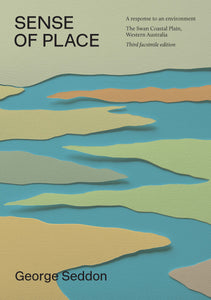 Sense of Place, Third Edition
Regular price
$34.00
$0.00
Unit price
per
Tax included.
Shipping
calculated at checkout.
Sense of Place, 3rd facsimile edition. A Response to an Environment: The Swan River Coastal Plain, Western Australia

By George Seddon
In 1972, George Seddon wrote Sense of Place, a landmark environmental study of the Swan Coastal Plain. The book introduced the ground-breaking phrase 'sense of place' into the fields of landscape and environmental design, inspiring a new generation of researchers, academics and enthusiasts to closely consider the dynamic between human land use and the natural environment.
Containing detailed information on the landforms, climate, drainage geology, wetlands, offshore islands and flora of this region, the book constructs a picture of the region before European settlement. The volume also depicts land use by Aboriginal custodians and colonial settlers, as well as outlining the major environmental resources of the region.
With a new Preface by environmental historian Andrea Gaynor (UWA) and an Introduction by writer, artist and professor of urban design (RMIT) Paul Carter, readers will get an insight into the complex sensibility of George Seddon, who was a connoisseur of landscapes, from the rugged Snowy Mountains to the humble domestic backyard. He was an innovator in urban planning, landscape architecture and environmental conservation who, although originally born and raised in country towns in Victoria, called Western Australia home over various periods, settling in Fremantle for the last years of his life.
As the world grapples with a changing climate and increased urbanisation, the impact of human design on our environment has never been more urgent. Nearly fifty years since the book's first printing, Seddon's reflections still stand today as essential reading for how we see the natural world through the human lens of design, and serve as a crucial guide for future planning.
The destruction of the Swan Coastal Plain's wetlands, the 'visual and ecological disrepair' of its coastline, the dramatic decline in its vegetation cover and condition lent a sense of urgency to the need for remedial or at least palliative measures. From the viewpoint of the present we can see some successes, but many missed opportunities and downright failures. These issues are complex and often intensely political … The need and thirst for intimate understanding of place, and attachment to it, has grown since the 1970s, now accompanied by a keen ecological awareness. (Andrea Gaynor, Preface)
Seddon's study of the Swan Coastal Plain as a human habitat shaped by the natural environment remains a primary reference for anyone in the study area interested in deepening the relationship between environmental history and environmental planning. (Paul Carter, Introduction)
Book details
PUBLICATION DATE: 2021
FORMAT: Flexibound
EXTENT: 250 pages
SIZE:  Large format, illustrated
ISBN: 978-1-76080-205-9
RIGHTS: World
CATEGORY: Urban Planning & Design, George Seddon, Natural History 
---